Print-as-a-Service ( PraaS ) and Managed Print Service (MPS)
Print-as-a-Service ( PraaS ) and Managed Print Service (MPS)
 By Raed Zabadi  |  January 26, 2022  
How offices buy printers (Single Function or Multifunctions) is changing. Print-as-a-service is rising, particularly among small and medium-sized businesses (SMBs).
Quocirca's Reported, Digitization: The Key to SMB Success, states that by 2025 more than half (55%) of SMBs would rather invest in print-as-a-service than use their own devices. With these changing preferences comes real opportunity for SMB's to decrease their cost and increase their efficiency while growing their business.
What is Managed Print Services (MPS)?
MPS is a suite of scalable, flexible, and secured solutions for office and production printing environments.  It helps organizations to increase productivity and lower the operating costs of managing paper and digital document workflows.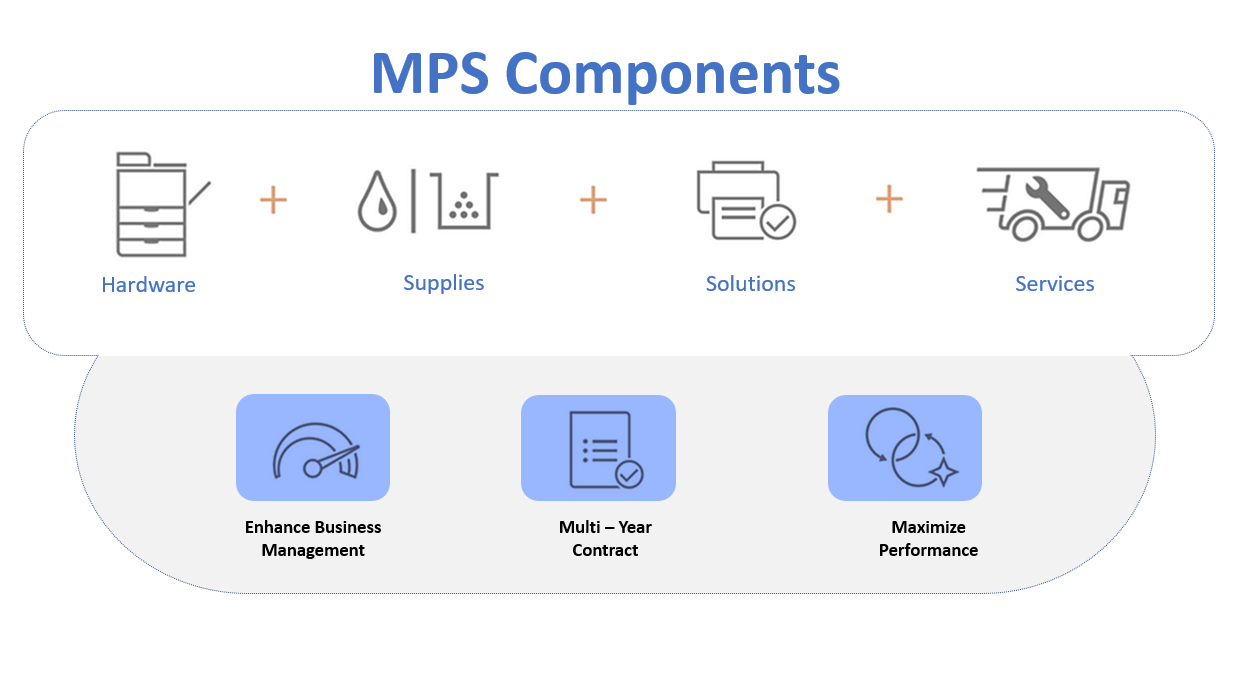 What Is Print-As-A-Service (PraaS)?
Print-as-a-service (PraaS) is a type of Managed Print Services (MPS) and the logical next step for the space. The main difference between traditional MPS and PraaS is that with PraaS the print device itself is included in the ongoing monthly fee paid by the customer. It's the same concept as a mobile phone contract, i.e. you get the device for free and pay a monthly subscription that includes the device and an allowance of services.
Traditional MPS looks like this. The office customer buys or leases a printer or multifunction device. Then they sign a service contract for that device. Equipment monitoring, consumables, parts, maintenance, and overall management of the customer's print environment are all included in the contract, bundled together into one ongoing monthly fee.
With PraaS, equipment monitoring, consumables, parts, maintenance, overall management of the customer's print environment AND the device itself are bundled into the fee. The customer doesn't buy or lease any print equipment and all the assets they use to sit on the provider's balance sheet rather than theirs. In essence, PraaS is pure service.
Are Traditional MPS and PraaS Billed to customers Differently?
Traditional MPS and PraaS are typically billed the same way: on a per-printed-page basis (cost-per-page or CPP).
So, with traditional MPS, consumables, support, maintenance, and equipment monitoring are bundled into the CPP price. The customer then gets a page allowance (free pages to print) per month.
PraaS simply includes the printer or copier as part of the CPP price.
What Are the Benefits of PraaS and MPS  for End Customers?
The headline benefit of PraaS for end customers is getting easy and affordable access to the latest technology. There is no upfront purchase cost for devices and none of the usual costs or headaches associated with ownership. Everything goes on one invoice. It means print-related expenditures are predictable and easier to manage. And when the time comes for a replacement or upgrade, this is likely to occur seamlessly and with minimal disruption.
PraaS is not just about customers getting the latest tech. It's also about them getting an ideal fit for their office environment and printing needs without having to compare printers, sort through specs or worry about prices. With PraaS, we are effectively designing the entire print environment for the customers.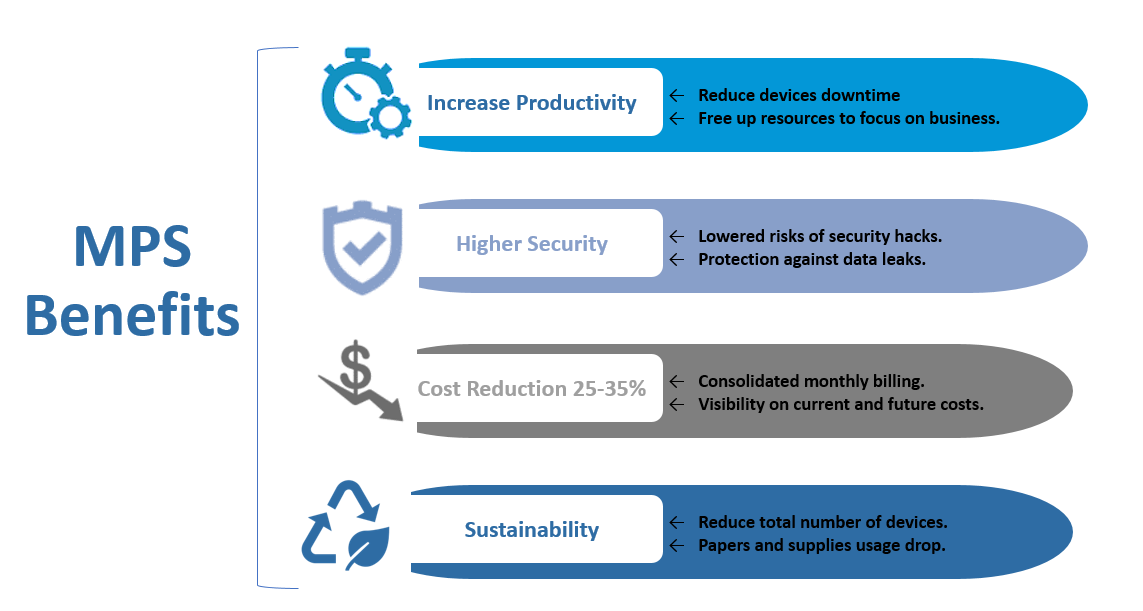 PraaS / MPS Implementation Road map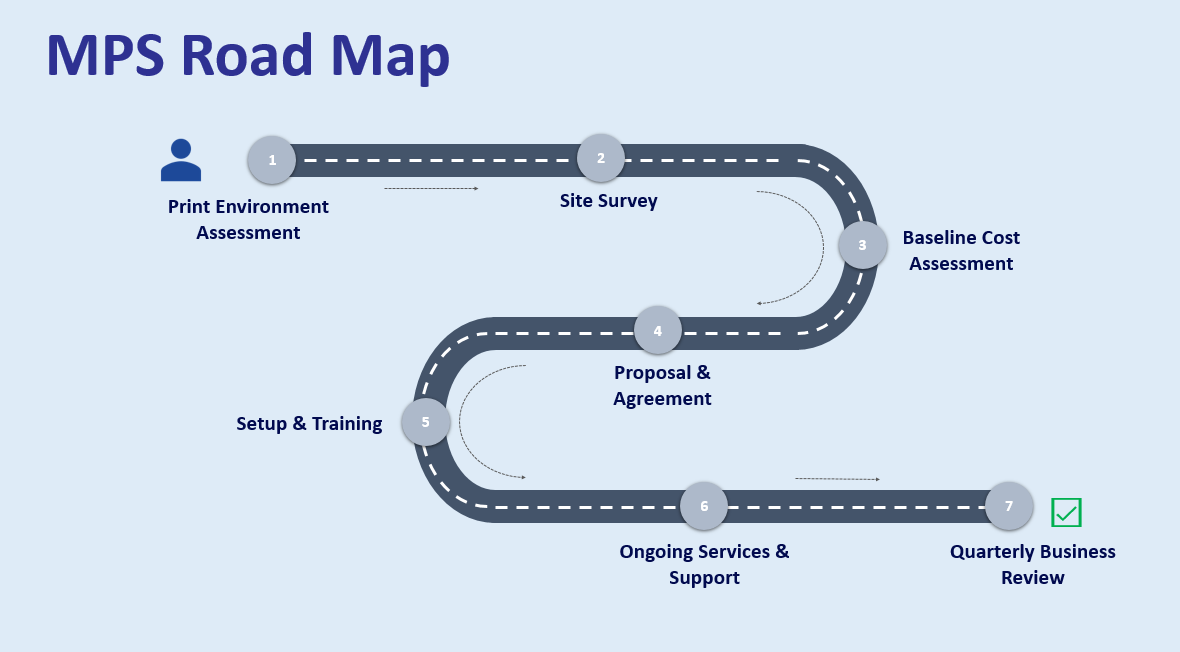 Above are the steps we do to understand the customer's office print environment to ensure the optimization of the overall print process to reach the organization costs target.
Print Environment Assessment: Discuss with IT, Finance, Infrastructure Management, etc. discuss expenses, issues, number of devices, devices distribution, devices capabilities, security issues, limitations, required services, etc…
Site Survey: Walk around offices, meet users, understand print behaviors, gather pain points, assess printing areas, understand users' needs, and identify the utilization of each device.
Baseline Cost Assessment: Uncover all historical costs and identify hidden costs with the current office print environment. This will generate a report that shows all detailed necessary expenses and estimate the future costs with the current print environment. Also, based on the above data, we identify the new print environment, models, solutions, provide a new distribution plan of devices, compare expected costs before and after, and show expected savings year over year.
Proposal and Agreement: We present our official proposal, define contract terms, payment terms, service level agreement, and the scope of work during the contract duration.
Setup & Training: an outstanding plan to deliver, distribute, deploy all hardware and related solutions. After that, we train and transfer the knowledge and awareness message to the users.
Ongoing Services & Support: our customers will have peace of mind with our ongoing services that include but are not limited to continuous devices optimization, utilization, consumables replacement, monitoring, break and fix predictive services, and periodic preventive services.
Quarterly Business Review: we make sure that the customer is 100% satisfied and our services are meeting the customer financial saving targets by discussing the detailed and consolidated report generated by Fleet Management Tools.
A Suit of features and functions that will optimize the print environment, secure devices and printed jobs, automate and digitize documents workflows to ensure costs savings.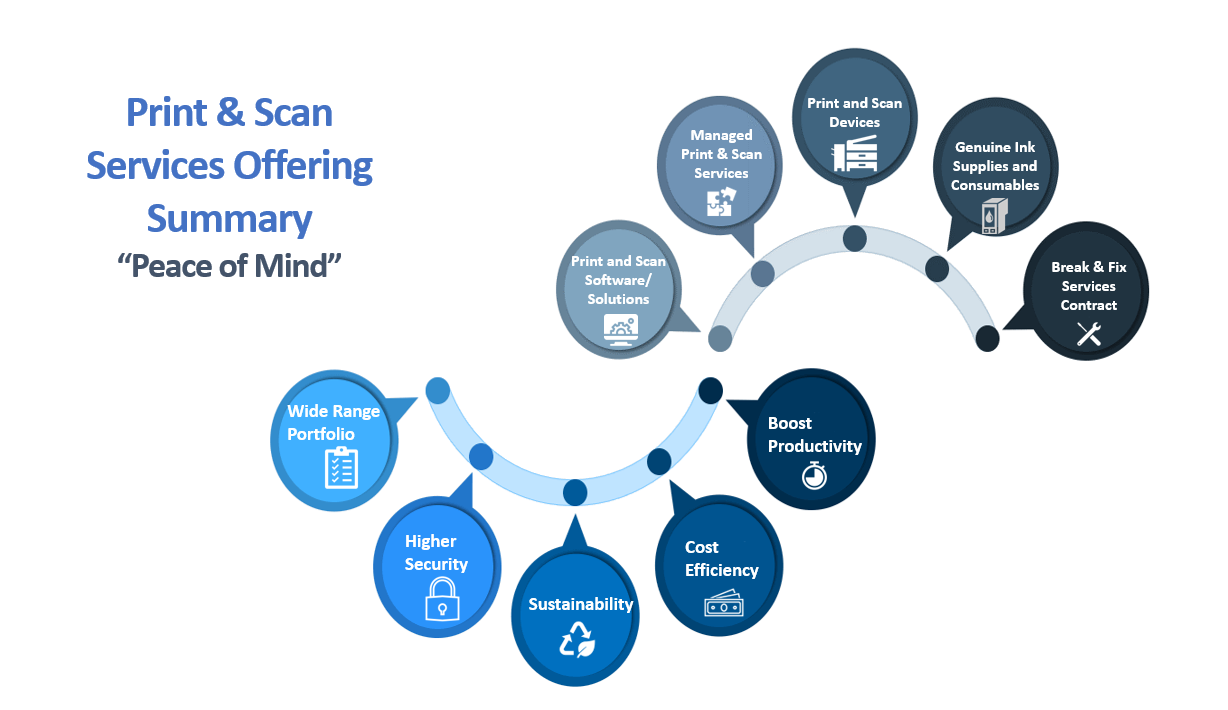 At ACS, we help our customers to transform their business based on market changes by providing them with innovative, efficient, and effective technologies and exceptional services.
Stay Up to Date With The Latest News & Updates
Join IT-Business Community